Ceilidh Trail, Cape Breton, Nova Scotia
The Ceilidh (pronounced "kay-lee", the word means "musical & dance gathering" in Gaelic; in South Boston is's spelled "Ceili") Trail runs from the causway at the Canso Strait separating the island of Cape Breton from the main peninsula of Nova Scotia and up the western coast to Cheticamp, where the Cabot Trail begins.

You must be wondering, "What's an ostrich doing in Nova Scotia"? Well, there was an ostrich and emu farm on the Ceilidh Trail. Ruth and I stopped there, took this photo and purchased an egg from each type of bird for mantelpiece display. Ruth was given some emu oil, which is supposed to ease muscle strain.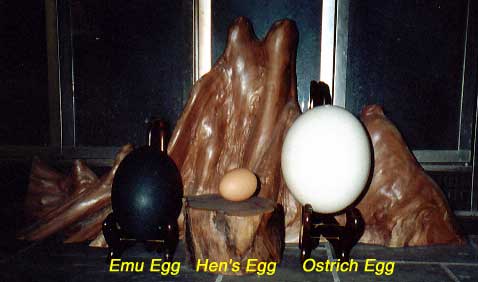 Back at home in front of our fireplace, left to right are an emu egg (dark green), a brown hen's egg, and an ostrich egg (white). The wood in the background is a cypress knee from a Louisana bayou. The hen's egg is atop a piece of redwood from Muir Woods, just north of San Francisco CA.
---
Tanner Family Home Page