Views around the Olson House

Ruth is posed here at the actual Olson House site, as if in the famous 1948 Andrew Wyeth painting "Christina's World". The Olson House is one of four buildings of the Farnsworth Museum. The other three, the main museum with its general collection, Wyeth's church with its multi-generational Wyeth collection, and the Farnsworth homestead are in Rockland.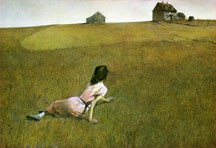 "Ruth's World"! (I crapped around with PhotoShop LA and my mouse to remove the trees and power pole and give Ruth a pink dress and shoes. I couldn't add Wyeth's fence. I wonder: Was the hill bare in 1948 or did the artist leave out the trees and pole?)

The Olson's field and the bay behind where Wyeth stood while painting "Christina's World".

Here I am with the friendly free-ranging mare that was part of the exhibit.
To Miller's wharf.