Harmonica Dan, The Amazing Ranger, and Luscious Lyla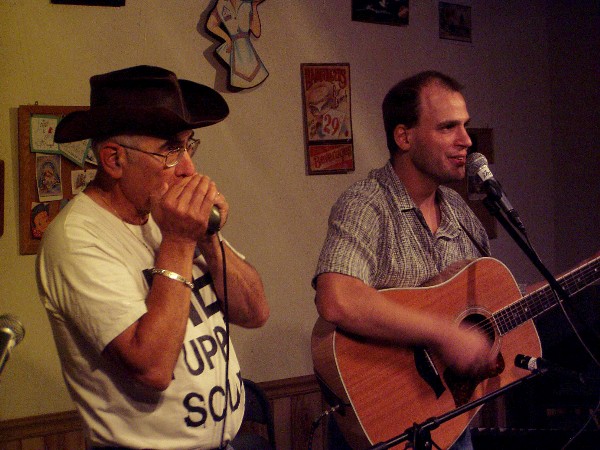 Duet with Carl Cacho on his composition "Turtles" at the Amazing Things Arts Center, Framingham MA, September 22, 2005.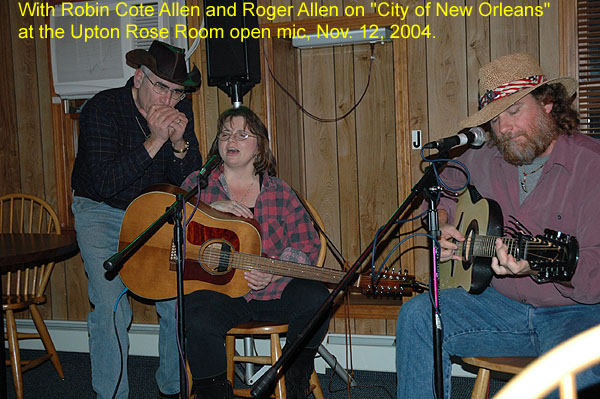 Playing with Roger & Robin and their 24 guitar strings at the Rose Room, Upton MA, August 19, 2004. (Photos: Matt & Rita Lindi)
My wonderful wife Ruth made me a harmonica themed quilt for my birthday. Slide show.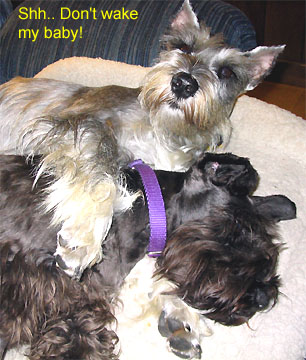 Luscious Lyla joined The Amazing Ranger in debut at the Rose Room on August 19, 2004.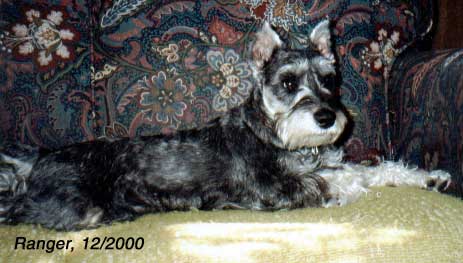 The Amazing Ranger debuts, wows audience at Dove Cafe, St. Joseph The Worker Shrine, July 29, 2001 at the Lowell Folk Festival.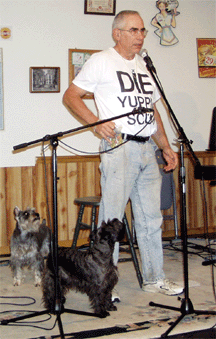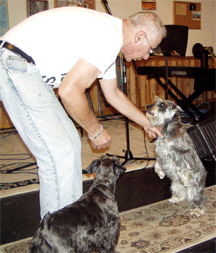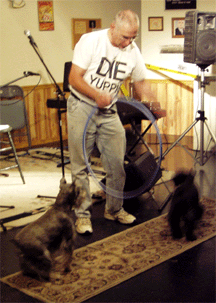 Ranger and Lyla at the Amazing Things Arts Center, Sept. 22, 2005.

News:...July 6, 2000 - Cheticamp, Cape Breton NS - Dan Tanner wins talent contest at the Doryman Pub, as voted by 300+ audience. Here's the Dorymen band that backed me in the talent show.

And here I am with the Cheticamp summertime boardwalk band. The musician, all cousins, left to right with me second from left, are P'tit Clarence Deveaux, Glen Borgeois, Clarence LaLiťvre, Sylvia LaLiťvre and Bruno Borgeois.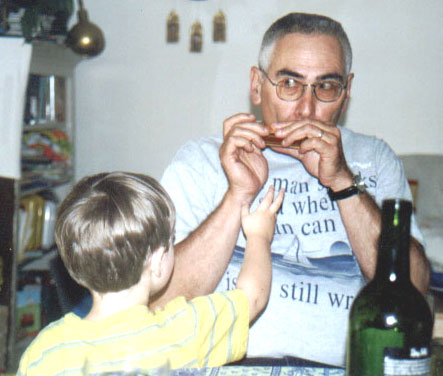 One more time: Here I am playing for Julian, a cousin's grandson, when we visited to meet his newborn brother Connor.
Critics say: "Dan really draws on his harp!"

That's me up on stage with the incomparable Christine Lavin, featured performer at the first annual North Atlantic Folk Festival in Rockland ME on August 15, 1999. I'm the one in the green raincoat, wearing my leather western-style hat, my harmonica in-hand, part of the chorus for her screamingly-funny "Sensitive New-Age Guys". Did it with Christine again on October 3 at the Circle of Friends Coffeehouse in Franklin MA.
Blind Jed the Wonder Dog has gone to his eternal rest and greater reward. Dedication to Jed below on this page...

Jed practicing his hoop jump for my wife Ruth.

ÖAbout the harmonica
from The Grapes of Wrath by John Steinbeck:
ďA Harmonica is easy to carry. Take it out of your hip pocket, knock it against your palm to shake out the dirt and fuzz and bits of tobacco. Now itís ready. You can do anything with a harmonica; thin reedy single tone, or chords, or melody with rhythm chords. You can mold the music with curved hands, making it wail and cry like bagpipes, making it full and round like an organ, making it sharp and bitter as the reed pipe of the hills. And you can play and put it back in your pocket. It is always with you, always in your pocket. And as you play, you learn new tricks, new ways to mold the tone with your hands, to pinch the tone with your lips, and no one teaches you. You feel around Ė sometimes alone in the shade at noon, or sometimes in the tent door after supper when the women are washing up. Your foot taps gently on the ground. Your eyebrows rise and fall in rhythm. And if you lose or break it, why, itís no great loss. You can buy another for a quarter.Ē
Ever since I picked up a harmonica and played it successfully, Iíve been seized by the urge to perform before just about anyone within earshot. Fortunately, the Olde Vienna Kaffehaus was then operating in my hometown of Westboro, with a vibrant "open mic" night. I clambered onto the stage there one such evening, and the rest is history.
Since then, Iíve highlighted shows at a handful of Unitarian church coffeehouses, as well as assorted other venues ranging from gin-mills from Maine, Cape Breton, and Ottawa in the north to Belize and the Commonwealth of Dominica in the Caribbean, to old-age homes, Masonic Temples and assorted open-air concerts both day- and night-time. I've been the feature act at Hopkinton's former "Night of the Stars" and presented a full two-set concert in the Summer Sunday Series at Riverbend Farm, the visitor's center of the Blackstone Valley Heritage Corridor. Locally, I've performed at the former "Sally Johnson presents" shows, at the Natick Center for the Arts, at the Webster House in Worcester, at the Stagecoach Inn in Groton MA, and the New Mon Coffeehouse in Auburn MA. I won a contest in Cape Breton.
What I really enjoy is getting the audience involved. I tend toward extensive use of sing-along material, teaching lyrics in the process. I often write my own comic lyrics to well-known or easily learned melodies, and Iím not above providing the words on posters for the crowd to follow.
I like to joke with an audience and tell stories that usually include some poignancy and a punch line. I often even sink to bringing along "The Amazing Ranger;, our miniature schnauzer, and "The Lovely Lyla;, our miniature schnauzer puppy. Both are painfully cute and always much-loved by crowd.
Click on the jumping sheep or the dog running between them to send E-mail to Ranger and Lyla, maybe about booking us, or inviting us to an open mic. Ranger can read. He saw a sign on a fire hydrant that said "wet paint", and he DID!
Jed had an extensive trick repertoire: sit-up, shake hands, speak, play dead, roll over, catch, fetch, balance a treat on his nose then flip and catch it, and jump through a hoop. Some of his tricks were done on hand signal command, for comic effect. I would say "sit up" but give him the roll-over signal, for example. When he became blind some tricks had to go, and he learned others again by voice command. He was a real trooper!
Dedicated to Blind Jed the Wonder Dog
When I was a lad and Old Shep was a pup,
In the meadows and fields we would play,
Just a boy and his dog, running out, having fun,
We grew up together that way.

I remember the time at the old swimming hole,
When I would have drowned without doubt,
But Old Sheppie was there, to the rescue he came,
He jumped in and pulled me right out.

As the years rolled along, Old Sheppie grew old,
His eyesight was fast growing dim,
And one day the doctor came to me and said,
"I can't do no more for him, Jim."

With hands that were trembling, I picked up my gun,
And aimed at Old Sheppie's faithful head,
I just couldn't do it; I wanted to run,
I wished they could shoot me instead.

Now Old Sheppie has gone where the good doggies go,
And no more with Old Shep will I roam,
But if dogs have a heaven, there's one thing I know,
Old Sheppie will have a good home.

Don't ask me to perform this song. I break into tears just writing it! Elvis recorded it early in his career. That's who I stole it from. I don't know who wrote it.
By the way, my family has numerous artists: Our daughter Mathilda is a multiple award-winning visual artist in Oil, Acrylic, Watercolor, Pottery, Sculpture, Jewelry, Glass, Bronze and Photography. My wife Ruth is an outstanding needlework artist. My late adoptive father excelled in oil-painting. My cousin Harry Connick Jr. is world famous for his music and movie & television work, both as an actor and composer. My uncle Harry Connick Sr., former District Attorney of New Orleans (1975 to 2004), is perhaps the nation's only singing D.A. He appears regularly At Maxwell's in the French Quarter and ocasionally on tour with his son. Harry Jr's mother-in-law is sculptress Glenna Goodacre, who created the Women's Vietnam Memorial and did the engraving of Sakajawea on the US $1 "gold" coin. My cousin Steve Livingston runs "Painless Productions", a stage company. My family and fun home page has links to all these folk, plus to numerous friends (such as Philadelphia's singer/musician/songwriter Kenn Kweder and New Hampshire's watercolorist/illustrator Yong Chen) and others I just admire who perform in the folk genre and/or create art.
One other thing... I work in high tech. Do you want or need to know about me professionally?
"Captain America" at Martha's Vineyard, 2002.
Top
Tanner Family home page